Best places to see in Manali
If you are a journey lover like me, then you have landed on this page like doing paragliding in Manali. I am going to disclose the secrets of Manali Hill Station. There are so many places to visit near Manali, but on my favorite list following are the top 10 Manali tourist places. Let's explore Manali Tourist Places one by one in a sequence. Oh, sorry. I forgot about your relaxation and convenience. You must save a few bucks on living in Budget hotels in Manali while enjoying relishing time. Plan your journey before leaving your hometown and never get late to book the best taxi service in Manali.
1. Hadimba Devi Temple
Manali's first and most famous destination to see is the Hadimba temple. Also known as Dhundari Temple or Hidimba Temple is the first choice of travelers. In the name of Devi Hidimba (wife of Bhima), this temple belongs to its root in late 1553. This temple attracts many travelers and loves nature geeks every year, and possesses a unique architecture of a wooden piece of work. Surrounded by long and dense deodar trees this place looks very peaceful and beautiful. So, in my recommendation, you must visit here without any hesitation and book a Manali sightseeing tour package from Cab Adviser Tours.
Highlights:
Exact Location– Old Manali
Timings: Monday to Sunday 8 AM to 6 PM
2. Jogini Waterfall
Jogini waterfall is just 7.5km from Manali Bus Stop and 4km away from Vashisht Hot Spring & Temple is the second most popular destination of Manali in Himachal Pradesh. Visitors like this picturesque natural spot as a picnic site and spend much of their time here only. You can book a Taxi From Manali To Jogini waterfall at affordable prices through us. The calm, peaceful, and untroubled pilgrimage place is Jogini.
3. Solang Valley
if you are looking for adventure tour activities in Solang Valley then this is the perfect place 14km near Manali you can have a thrilling experience. Many newly married couples come here in winter to enjoy snowmobile exploration. You can enjoy Cable Car Ropeway and Paragliding when whether a little warm-up. So, as per the season choice, you experience Snow based adventure activities and other sports.
4. Hampta Pass Manali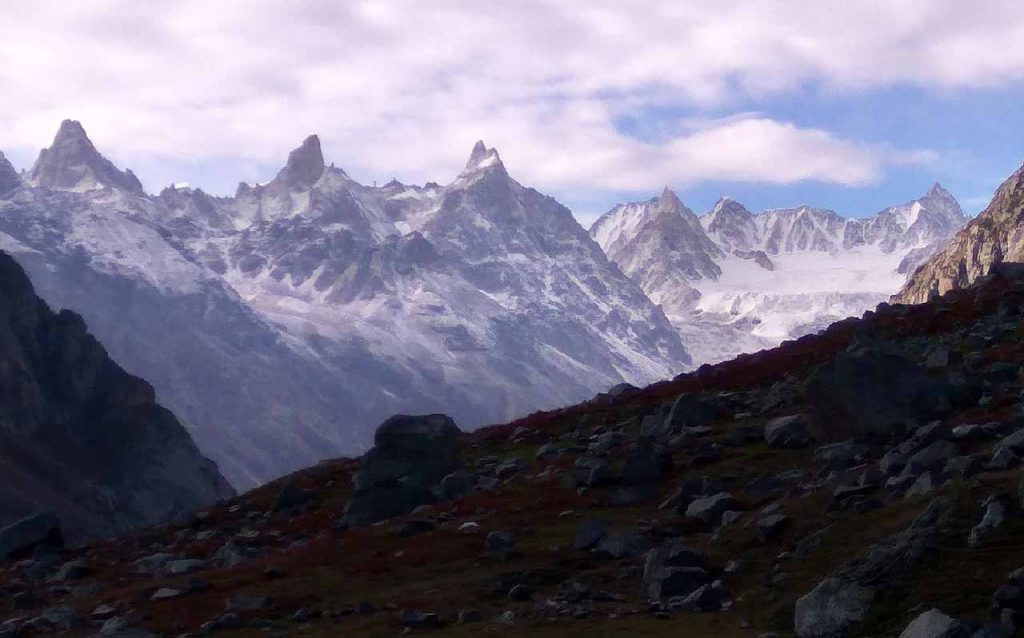 Hampta Pass Trekking is another reason people love to visit Manali. This trek comes in the medium-difficulty category of trek sites near Manali. On the Trek pathway, you can take the serene view of Lauhal Valley, Kullu Vally, and Lake Chandratal. You can book Manali To Rohtang Pass Taxi for other thrilling adventure sports. Trekking is always lovable by friends and family. You can book Tempo Traveller In Manali for group persons.
5. Manali Van Vihar
Van Vihar Manali can be the best choice for those who want a restful and peaceful place. You will feel nature very close here with the green and tall deodar trees. The artificial lake also looks like the original lake in Van Vihar. You can enjoy boating activities. Make the most of your time on these lovely days in Manali.
6. Hot water spring and Vashisht Temple
A 4000-year-old spiritual village named Vashisht Temple is famous for Wooden carvings on walls, paintings, and much more. The major thing that is unique about this place is its hot water springs which have healing properties in its water. The nearby situating market is very famous for woolen clothes.
7. Old Manali Town
Old Manali Town, covered with apple orchards, is the center of attraction for tourists since starting age. Forests are also very serene. The Market is a very traditional selling proposition. You can buy Woolen clothes for their culture for both men and women.
8. Rohtang Pass
One of the most and my favorite destination in Manali is Rohtang Pass. You must give a full day to see the Peer Panjal Range mountain. It's almost 4000 meters above sea level and the first choice of Tourists from old times in Himachal Pradesh. My wish, you will love skiing and mountain biking here. Nature Lovers like Artists and Photographers spend day and night here. This destination will make your complete your trip.
9. Himalayan National Park
UNESCO World Heritage site Himalayan National park is the land of many bird species and plants, which includes more than 980 plants and 200+ bird species. Approximately 50km away from Manali city, this park has Snow leopards and brown bears. People love hiking and camping in this area. This park levies entry fees of Rs. 50 for Indian Citizens while charging Rs. 200 for International Tourists.
10. Gauri Shankar Temple
Gauri Shanker Temple is named after Hindu Devi Gauri and Hindu Devta Shiv Shankar. Temple Architecture is very traditional in nature and walls are made up of Stones that are carved very stylish way. The Shikhara look of the Temple looks very appealing to tourists.